About Us
About the Company
COVID-19 / CORONAVIRUS UPDATES & FAQ
What are your hours?
We are open 8-5:30 Monday-Friday. Saturday 9 til 2ish
Our store is open. Masks required.
Are you still delivering?
Yes. We are providing Limited Contact delivery to all Jonesboro
All deliveries will automatically be left on the porch unless not possible. Hospital deliveries are left at a central location for their staff to deliver.
Are you still doing wedding and event consultations?
Yes! Call for information. 870.932.2231
Flowers & Plant Substitutions
We are doing our best to continue offering gorgeous, fresh flowers.
However, many of our flower farms and providers are closed or unable to provide the wide selection our customers are accustomed to.
We will try to keep our product menu updated based on availability, but substitutions may be made.
You will be contacted about any flower or plant substitutions if it alters the overall feel of the design - otherwise, we will do what we do best!
Why buy plants and flowers now?
Flowers and plants provide us the unique opportunity to stop and experience beauty, calm, and peace during a time of chaos.
Flowers make us feel loved and appreciated. The arrival of flowers brings a moment of elated surprise and joy.
We are honored and privileged to be able to deliver manifested happiness to people when everything feels so unsure.
Flowers offer, even for a moment, a brief pause to "stop and smell the roses".
Science has proven that flowers have a positive emotional impact on people.
.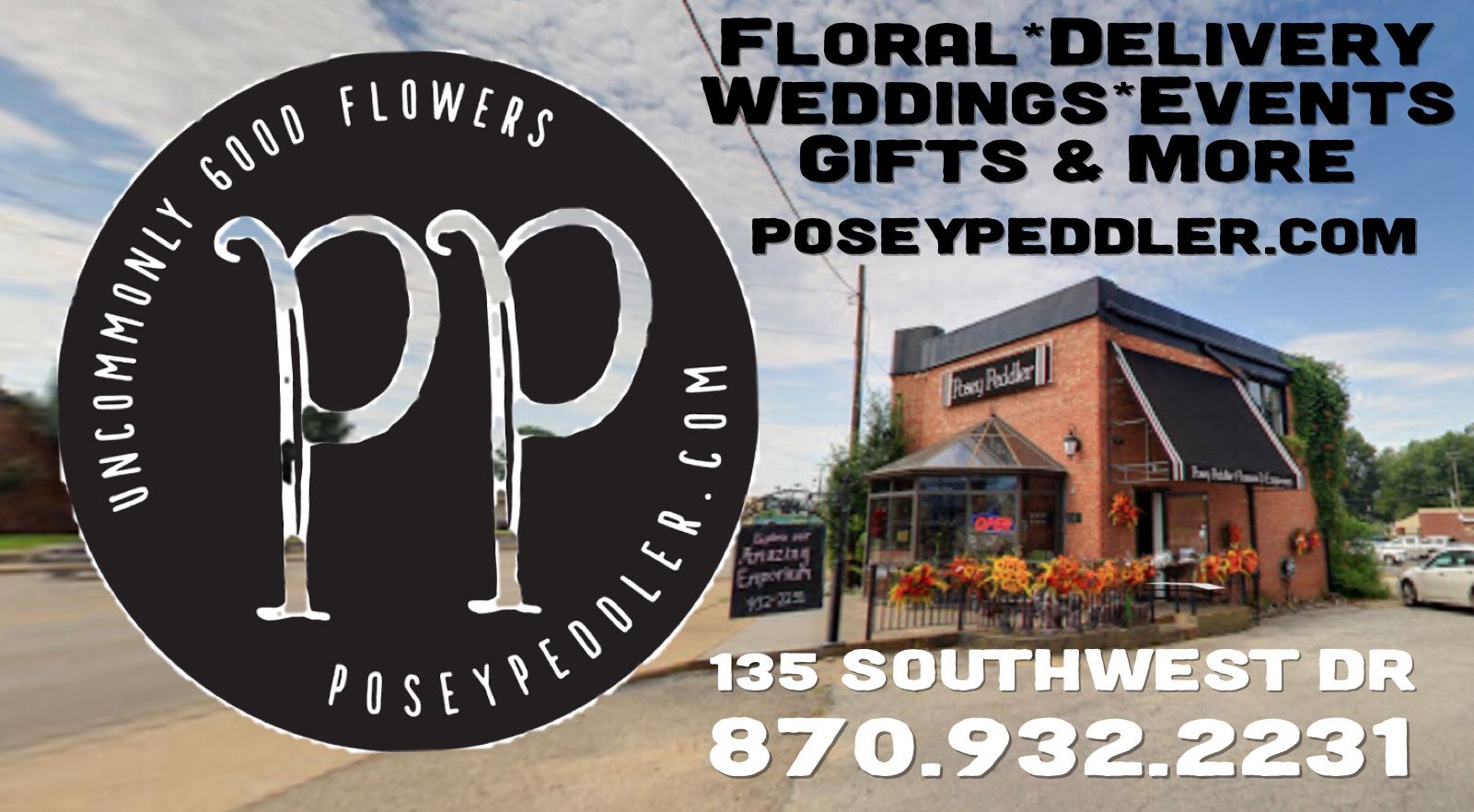 THE POSEY PEDDLER
135 SOUTHWEST DR.
JONESBORO, AR 72401
Payment Options
We accept the following payment methods:
Visa
MasterCard
Discover/NOVUS
American Express
Corporate House Account
Pay on Pick Up Unless custom item
Areas Served
Our shop serves the following areas: Jonesboro, Arkansas State University, Bono, Brookland, Lake City, Valley View, Weiner, Trumann, Bay, Harrisburg, Cash and Craighead County Country Roads. Additional Delivery Fees will apply to outlying areas.
We proudly deliver to the following facilities. If you do not see a facility listed, please contact us direct or place order online; in most cases we will deliver to all facilities within the cities we service. If there is any questions we will happily call you to go over the details.
Flo & Phil Jones Hospice
NEA Hospice
Jonesboro Health & Rehabilitations
St. Bernard Hospital
St. Bernard Rehabiltation
NEA Baptist Memorial Hospital
Arkansas Continued Care Hospital
Encompass Health Rehabilitation Hospital of Jonesboro
Lexington Place
St. Elizabeth's Place
St. Bernard Village
Morningside
Ridgecrest Nursing Center
Craighead Nursing Center
St. Bernards
Villa Lakeside Nursing Center
Southwind Heights
Specialty Services
We have the best selection of flowers and roses in Northeast Arkansas daily. Not just the basics, but we often have the wild, the exquisite, the rare, and the strange. Our Red Explorer roses are the best in the world, grown on the side of volcanos and cut just for Posey Peddler. Each week we stock bright yellows, cool blues, scented lilies, bright gerberas, cheerful daisies, and lux dianthus and so much more.
Posey Plants has the largest selection of indoor plants in Northeast Arkansas. We know and are always learning more. If you love plants like we do check us out next to our main building - www.poseyplants.com for our weekly selection of green and blooming plants.
We specialize in greatness. Traditional to cutting edge, flowers are a personal reflection of the sender for the beholder. We want it to be a wonderful experience for you. Let us guide your selection based on the available product - not some filtered photoshopped photo from a franchise. Like people, flowers bloom when they are ready.
Life events * Celebrations * Weddings * Ethnic Traditions * Funerals * Memorials *Birthdays * Births *
Posey Peddler Events and Posey Peddler Everyday
Our Emporium has a carefully curated selection of lifestyle gifts and collections. We specialize in handcrafted and Made in America. Most of our collection is now online.
Contact Information
Please Contact Us At
870.932.2231 or 800.526.5614
We answer almost all the time except late at night or during church. We also strive to wait on the customers inside our store first before we answer the phone. Please forgive and call back. We want to talk to you.
February 12 will be the busiest day of our year for phone calls.
posey@poseypeddler.com is our general email.
Privacy Policy
This privacy statement has been created in order to demonstrate our firm commitment to protecting customer privacy.

Information We Collect

If you open an account on our site or make a purchase, we need your contact information including your name, e-mail address and mailing address to complete your transaction.

When you visit our website, we also collect some basic information that does not identify individual users. We use this information to determine our users demographics and interests, so that we can better understand and serve our users.

"Cookies"

Cookies are small files which store certain information about your activity on the website and are stored on your computers hard drive. Our cookies do not contain any personally identifying information. We use cookies to let us know that you are a prior customer, so that you dont have to reenter information you gave us on your prior visits. Most web browsers automatically accept cookies, but most allow you to instruct your browser to prevent the use of cookies. However, if you disable cookies, you will not be able to use certain features of this website.

Our Use and Disclosure of Your Information

When opening an account or making a purchase, you have an opportunity to opt-in or opt-out from receiving emails from us. If you opt-in to receive information from us, we may use your purchase history, contact information and other registration information to provide you with more relevant information and email content. We may send emails to our users regarding changes in our services or other information we believe will be of interest to our users. If you prefer not to receive these emails, you can send us an email with the subject line no emails or reply to our email with the subject line no emails.

If you send us personal correspondence, such as emails or letters, or if other users or third parties send us correspondence about your activities on our site, we may collect such information. We may use that information and other information that we obtain from your use of our site to resolve disputes, troubleshoot problems and enforce our agreement for Terms of Use.

We may share aggregate statistics about our sales, traffic patterns and related site information with other businesses, but these statistics will include no personally-identifying information.

We may share your information with Teleflora and other reputable vendors for the purpose of sending out special offers via email and/ or in connection with the services provided by our site such as the delivery of flowers. Your information will not be shared for any other purpose and will be kept secured.

We cannot ensure that all of your private communications and other personally identifiable information will never be disclosed in ways not otherwise described in this Privacy Statement. For example, we may be required to disclose information to the government or third parties under certain circumstances, or third parties may unlawfully intercept or access transmissions or private communications. We can (and you authorize us to) disclose any information about you to law enforcement or other government officials as we, in our sole discretion, believe necessary or appropriate in connection with an investigation of fraud, intellectual property infringements, or other activity that may be illegal or may expose us to legal liability.

Security

This site has security measures in place to protect the loss, misuse and alteration of the information under our control.

All user credit card information is securely communicated using secure socket layer (SSL) software, which is the industry standard and among the best software available for secure commerce transactions.

All user information stored on our server is stored in an encrypted format. Notwithstanding these efforts, we caution you that perfect security does not exist on the Internet.

Linked Sites

If this site contains any links to other websites, we are not responsible for the privacy practices or the content of such websites.

Changes to Privacy Statement; Consent

We may update this Privacy Statement from time to time. You should check this page periodically for changes. By using our site, you consent to the collection and use of your information by us as described in this Privacy Statement.

Questions and Comments

We welcome your questions and comments about this Privacy Statement.